Brand Strategy - Overview
Like it or not, prospective clients will develop a "story" about you and your firm. The only question is – is it the right story?
Your Brand encapsulates your identity – or as the marketplace perceives it, your reputation. A powerful Brand sets expectations in advance, positioning you for success well before you even begin the sales process.
The Meyler Brand Strategy is foundational - informing all of the other messaging and collateral items and driving your communications strategy.
Steps One & Two: Discovery & Temperature Check
This first step in the process is to deconstruct and then reconstruct your Value Proposition. It starts with Discovery - independently learning as much as we possibly can about you – just as a prospective investor would.
That is quickly followed-up with the Temperature Check where we interview the people that know your firm best – to gather both strengths and weaknesses.
Together, this objective and subjective knowledge paints a very detailed picture of you and your business.
The findings are presented to you in a 40-50 page document designed to act as the foundation upon which we re-build your story.
SAMPLE FINDINGS FROM A TEMPERATURE CHECK PRESENTATION
Question: WHAT ISSUES DOES BLUEPRINT FACE? WHAT WOULD DETER SOMEONE FROM INVESTING?
Investors – particularly RIAs - are wary of anything new. They need to save face, and they want to appear in control
People don't understand it . Not everyone believes in
market timing
Some investors like to know what's "under the hood"
Question:
WHAT ADVICE DO YOU RECOMMEND TO MOST FAVORABLY IMPACT THEIR BUSINESS?
Consider offering RIAs a fee sharing arrangement
Streamline the story – as a CTA, what message are you trying to convey with the "blueprint" and "architecture" theme?
Get on every platform you can. Get quoted and
write articles
Question:
WHAT ASPECTS OF BLUEPRINT'S MODEL AND STRATEGY ARE MOST COMPELLING?
An investment style that is detached from emotion
The model is proven. You can't cheat math.
Step Three: Brand Strategy & Positioning Development
Insights gained from the Discovery and Temperature Check data and the Brand Strategy Workshop are distilled down to define your brand attributes.
During this stage we create:
The Brand Strategy – including five perspectives on what the brand stands for
Brand Positioning – five essential facts
Positioning Statement – a narrative summary of the previous parts
SAMPLE FINDINGS FROM A BRAND STRATEGY & POSITIONING DOCUMENT
PERSPECTIVE 1
BRAND AMBITION: WHAT ARE WE STRIVING TO BE KNOWN FOR?
We are theSystematic Investment Strategies (SIS ) disruptors that every Investment Advisor aspires to have in their corner.
REASONS TO BELIEVE: WHAT'S THE PROOF?
We can run any set of Investment Advisor data through our system and prove our approach would have outperformed
We will share everything, including our formulas
We provide marketing tools and content for Investment Advisors to use with their brand identity*
We provide training for Investment Advisors to use our system, and around other leading-edge issues previously unavailable to small and mid-sized market professionals*
POSITIONING STATEMENT
We provide Investment Advisors with a game-changing SIS solution based on analysis of centuries of human behavior in eight familiar asset classes. We have developed mathematical models that can identify opportunities with remarkable accuracy, models that we are happy to share. We operate with 100% transparency and have unassailable proof that our system works: there is no black box here.
The final step is to create a strong framework that your entire firm can use to build their own personalized adaptations of your brand story. This internal-facing document includes five key deliverables:
A tag line which works with your logo / wordmark to encapsulate your brand message
A short paragraph summarizing your brand (an "elevator speech") that can be used wherever you need a synopsis of your story.
A concise brand positioning
Statement that can be used as a gauge to check the alignment of future marketing copy
2 – 3 analogies or parables that will help each member of the firm craft their own version of the Brand Story
Several actionable suggestions for handling existing tasks through the filter of your brand
BRAND NARRATIVE – BLUEPRINT
that while the market is unpredictable, human behavior is not. IN FACT IT TURNS OUT THAT HUMAN BEHAVIOR TRIGGERED BY CERTAIN MARKET CONDITIONS HAS BEEN PREDICTABLE FOR CENTURIES NOW.
As we combed through all the data looking for insight we were convinced, once and for all, that while valuation is subjective, price is the only truth.
PRICE IS REAL…You can count on it.
AND INSTEAD OF A BLACK BOX,
at Blueprint Investment Partners WE ARE GLAD WE'VE ENGINEERED A TRANSPARENT BOX. We will show you anything you'd like to see. If you want to see our formulas, no problem.
If you want to know how we came up with them, we can share that with you too.
Developing a brand strategy is a revealing and rewarding process – but it only becomes useful when you unleash its power and incorporate the brand attributes into every facet of your organization
Obviously, your marketing materials are a key vehicle to display and communicate what your brand is all about.
At the same time, to fully 'live the brand' means that every aspect of your organization must be aligned with the brand values – from what clients and prospects see and experience when they are visit your office, to what they read in your emails and hear in your phone calls, even to the traits that you look for in your next addition to staff.
Brand Activation: Identity
If your brand boils down to 'what people say about you when you aren't in the room'…
…then your brand identity is the visual way to quickly communicate what you want those people to say.
In this case, the original Blueprint identity was unremarkable. The logo was based on an actual blueprint, and did not support the new 'transparency' positioning. The color palette was monochromatic, and the dark tones were not aligned with an image of transparency and openness.
The redesign demonstrates a renewed sense of purpose and a clear, concise company message.
BLUEPRINT BRANDING
Wordmarks are minimal, clean, and can pack a lot of impact. Blueprint wanted a wordmark that featured a symbol or graphic device that could be used in other collateral.
(Old Logo)
Brand Activation: Website
Your website is the hub of your marketing efforts: driving visitors to the site provides a means of measuring the effectiveness of various programs, and it provides a way to engage with prospects and to monitor their progress through the decision steps.
The central theme of the updated Blueprint website is one of transparency – a key differentiating point from the Brand Strategy work. From the opening video loop of a 'black box' becoming transparent, to the trailblazing decision to display an trend-following formula on the site, the entire visitor experience is consistent with the new brand and the new brand identity.
WEBSITE
The original Blueprint website was tied to the 'architecture' theme, with imagery and copy that did not provide a distinctive identity or any differentiation for the Blueprint value proposition.
referred to a term we coined during
our Brand Strategy findings.
REPEATED USE OF VISIBLE FORMULAS
helped to drive home the aspect of their utmost transparency.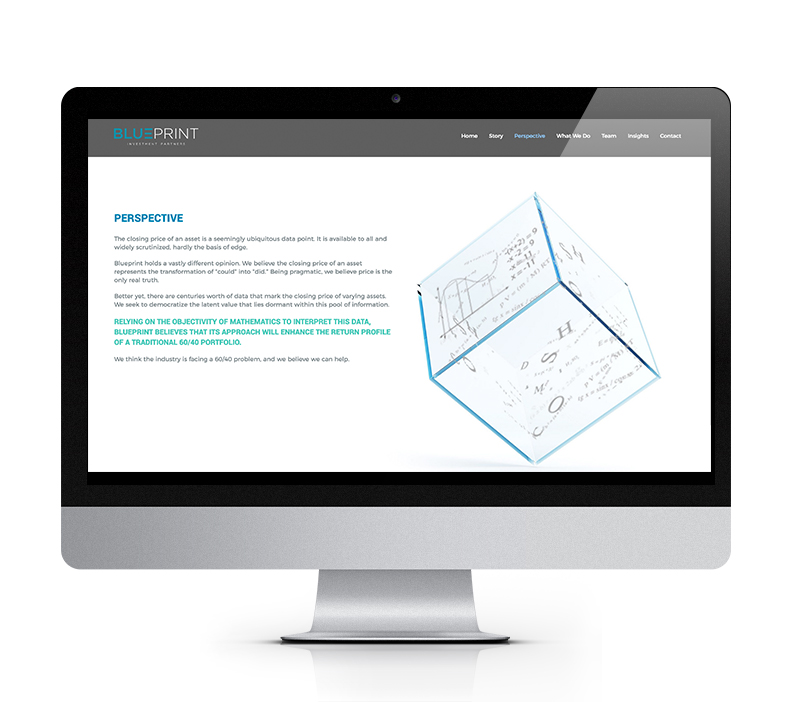 REPEATED USE OF GLASS BOXES WITH FORMULAS INSIDE
again helped to drive home the notion that Blueprint is 100% transparent to anyone and everyone.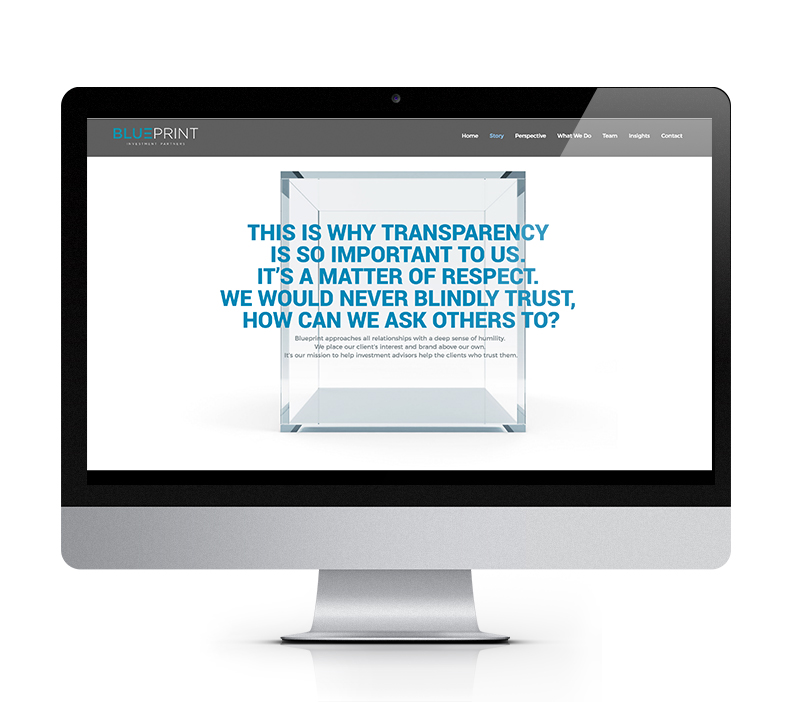 with thoughtful, impactful language.
Want to see it for yourself?
Brand Activation: Content Marketing & Collateral
A consistent brand experience extends beyond the website, and must comprehend all prospect and existing investor touch points. Whitepapers, stationery, and business cards can all reinforce your brand identity and message.
It's difficult to predict the sequence in which a prospect will interact with your firm – so your story has to be told repeatedly in order to strengthen it over time. Each touch represents an opportunity to build strength if the message isconsistent – or to diminish that strength if the message varies and if the identity is inconsistent.
All the components of the Blueprint collateral package work together to ensure that each interaction reaffirms the brand story and leaves a positive, memorable imprint on the reader.
BRAND ACTIVATION: CONTENT MARKETING & COLLATERAL
About Blueprint Investment Partners
Blueprint Investment Partners collaborates with investment advisors to determine which of their clients could benefit from adding a systematic strategy to their portfolio. They then manage the investment on the client's (and advisor's) behalf, empowering the advisors to help the investors who trust them.
You can find them at: www.blueprintip.com